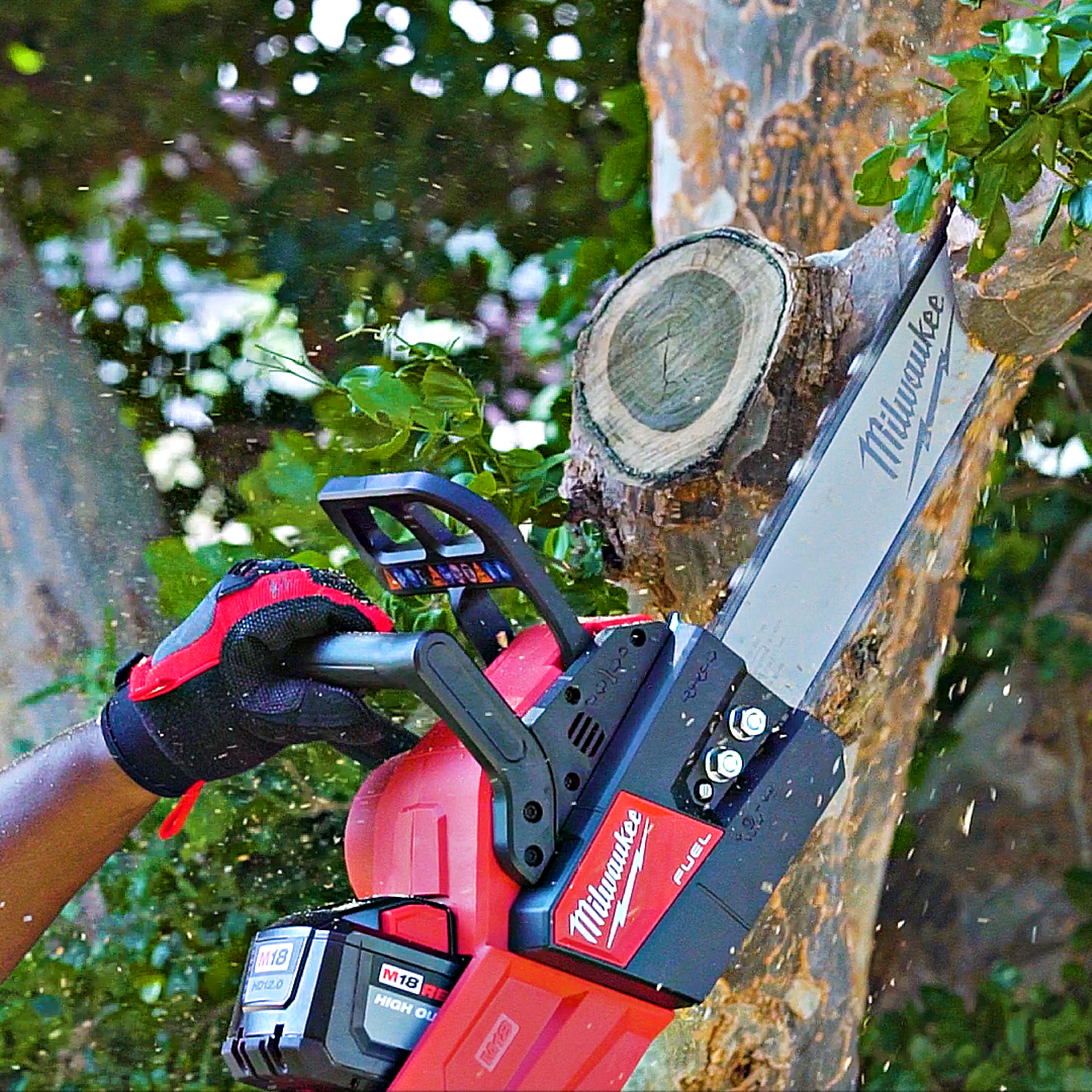 Did you know that power tools are here to make upkeeping your garden much easier? Power tools ensure that you can maintain a clean outdoor space with minimum effort. The hard part is deciding which power tools you absolutely need! We've sorted through our range and selected 6 tools that you cannot live without.
TOOL #1: Hedge trimmer
Hedges can make or break a garden. They have the ability to make patios, walkways and garden patches look alive and vibrant or provide the necessary privacy. However, hedges can be quite a handful to maintain. Not when you have a hedge trimmer! It is by far the easiest and fastest choice when wanting to trim your hedges. It cuts through branches from 1⁄2 to 3⁄4 inch thick. It's important to know when to cut your specific hedge.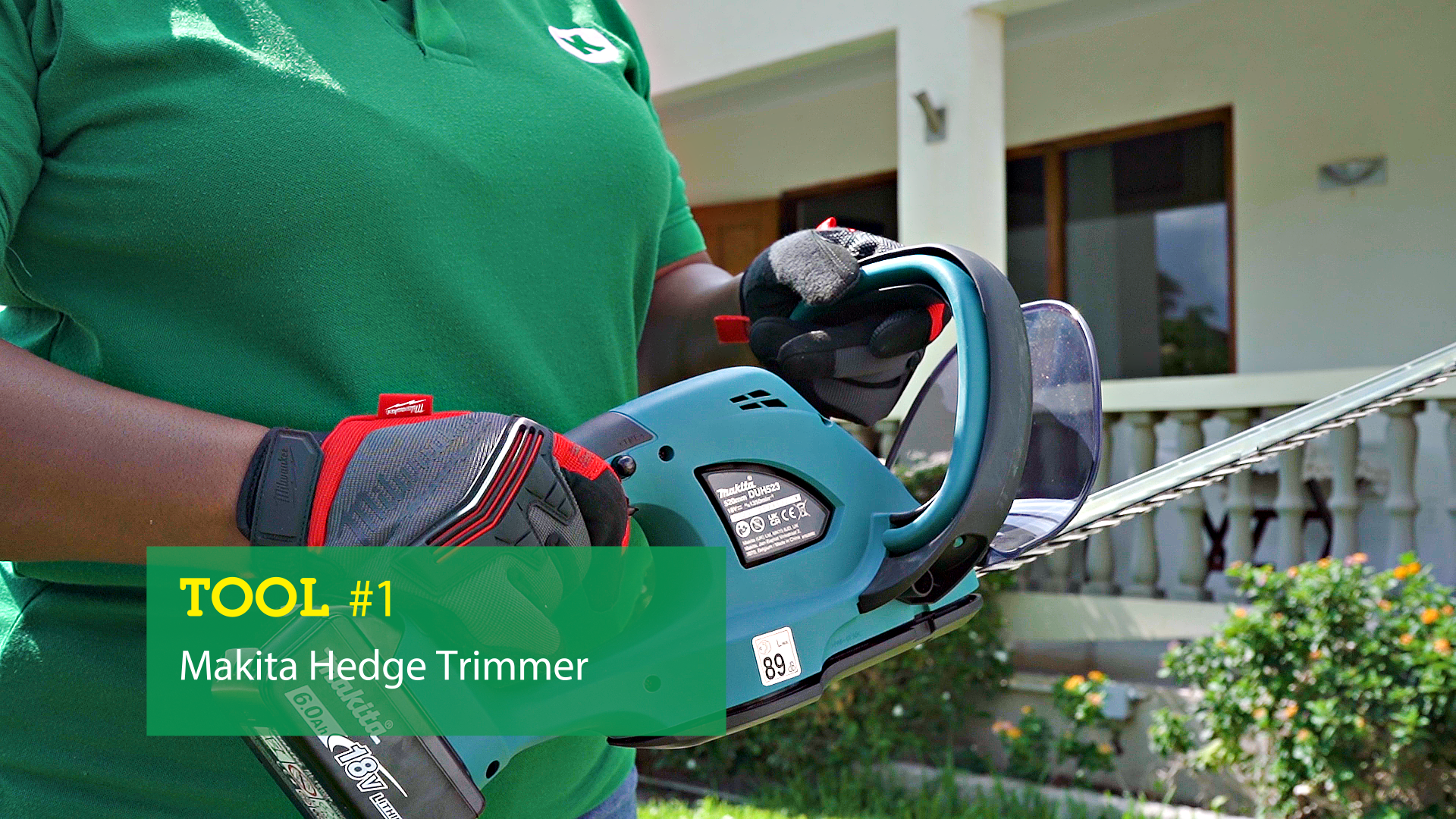 TOOL #2: Cordless grass trimmer
As you might know, grass can get out of control and look unkept when it grows too long. To solve this issue the cordless grass trimmer is made for you! The cordless grass trimmer is easy to use, however, there are some things to keep in mind. For example, check what kind of grass you are cutting and adjust the speed accordingly as you don't want to damage your garden. Always inspect whether the trimmer head is free of debris or clippings before you start to use it. Also ensure that you have enough string available in the trimmer head. If this all checks out, you can start to be amazed by the cordless grass trimmer.
The cordless grass trimmer is perfect to get into the nitty-gritty of your grass problems. It can easily get into the places where a lawn mower can not, therefore it achieves a neat end result. We are excited to show you how easily we can make this patch of green look clean again.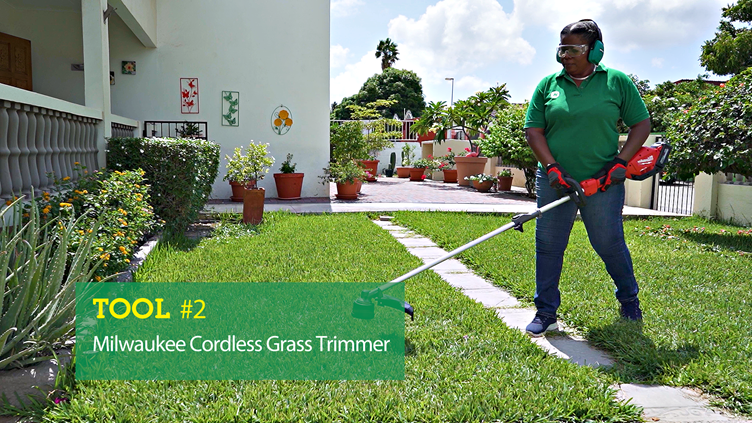 TOOL #3: Electric screwdriver
The electric screwdriver (hammer drill/driver) and manual screwdriver can never be confused with each other. The electric screwdriver is a more versatile, accurate and quick tool. No more carrying around different manual screwdrivers as the bits can easily be changed to accomplish a wide variety of screw styles and sizes. This Makita electric screwdriver is also excellent in covering up mistakes with its reverse action.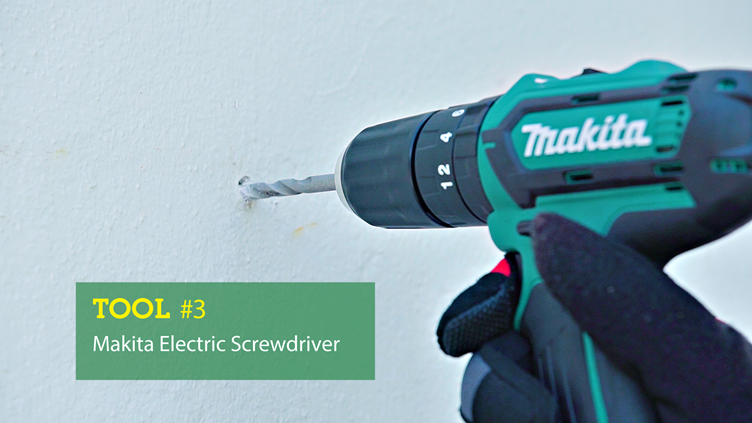 TOOL #4: Electric chainsaw
An electric chainsaw is a go-to equipment when you are a garden enthusiast. The tool is perfect when you want to cut down trees or smaller branches and limbs. A chainsaw is perfect for trimming trees and bushes with thicker branches, or cutting down entire trunks. Without a sweat. You can use one on gasoline but these days the electric ones are just as great and the batteries are compatible with other power tools! The electric chainsaw makes cutting through items easy and carefree.
It is important that you use the appropriate protective gear when utilizing an electric chainsaw. The protective gear will take care of you in case an accident happens. You should always wear plastic goggles or safety glasses to prevent wood and sawdust damaging your eyes. A safety helmet is also highly recommended to protect you from flying debris. As an electric chainsaw can get quite loud, wear hearing protection when you are exposed to the sound for an extended period of time. You should also wear cut-resistant gloves and pants as safety against the chainsaw blade and flying bits of wood.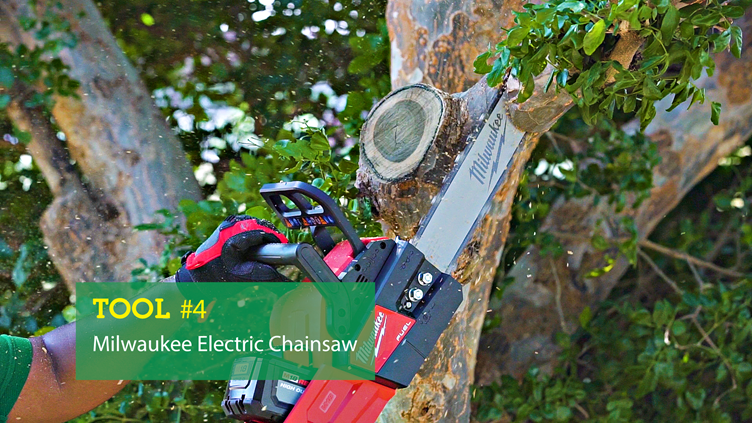 TOOL #5: Leaf blower
Do you ever get annoyed by having to rake up all of the leaves that clutter your garden? The leaf blower will blow them all away within a fraction of the time, leaving you with a wonderfully well kept garden. Leaf blowers propel air out of a nozzle, moving leaves and grass cuttings out of the way.
Leaf blowers can either be powered by electricity or gasoline, the one we are using from Milwaukee is electric powered. We have decided to use a handheld unit but they also come as backpack mounted units with a handheld wand. We have just cut this grass and hedge and are excited to propel the debris easily away!
TOOL #6: Pressure washer
The pressure washer is one of those tools that can be used for nearly anything. It is an investment but as they are so versatile in use, they are worth it. The pressure washer is used to quickly and efficiently clean different materials. You can watch all of the dirt wash away from your terrain in a matter of seconds! It is excellent in cleaning stone and metal surfaces but could also be used to clean wood or painted surfaces when set to a lower setting. Cleaning this driveway with the pressure washer is one of the most pleasing things to do, seeing how much better it looks is amazing. If you have a brick or stone driveway, it easily goes between all of them to clean it all. Do your exterior walls look dull? No more with the pressure washer! Revamp your entire exterior with this power tool.
We have given you a how-to on our 6 most essential power tools to upkeep your exterior. At Kooyman there are many more power tools from which you can choose, and we are glad to help you choose one that best suits your needs.