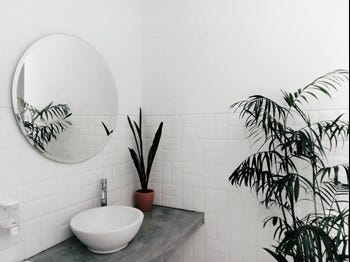 There are countless small bathroom updates you can do to improve the style of your bathroom but also the functionality. Bringing a decorating theme to life can really pull together a small bathroom, think about a minimalistic theme perfect for the modern home, or a vintage theme highlighting your traditional character. Whichever the case may be, these tips will guide you to make the most of your space!
Use a corner sink. In small bathrooms, a sink configured to fit in a corner is a great space-saving option.


Opt for a glass shower door, skip the shower curtain. Shower doors or curtains may not work for small bathrooms as they divide an already small space. A glass door gives the illusion of an open space.


Choose a vanity with rounded corners. In tight spaces, a vanity with rounded corners can prevent bruised hips.


Opt for a vanity with open shelves. Open shelves offer storage without swinging doors that can get in the way in a small space.


Use large-scale squares, wide stripes, and other large patterns that can give the illusion of spaces seeming larger.


Mirror the wall. In small spaces, having a mirror occupy the entire wall behind the vanity can help two people to use it at once.


Install a wall-mounted faucet. Mounting a faucet on the wall allows for a smaller vanity, which helps free up space in a small bathroom.


Mount the towel bar on the door. Save even more space by mounting a towel bar on the shower door or the back of the entry door.


Pro-tip: Painting the ceiling white helps amplify a small space.